2520 - 204 Street NW - Upper Floor Unit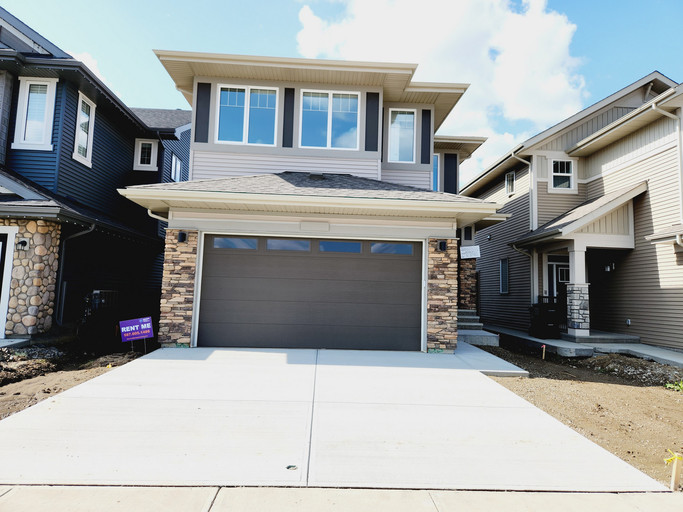 2520 204 Street NW, Edmonton, AB, T6M 0M9
$2299
4 Bedroom
Brand new main unit rental property at The Uplands at Riverview
4 bedrooms, 3 full baths, and a double attached garage
Over 2500 square feet of living space
Versatile main floor room for bedroom or home office
Chef's dream kitchen with upgrades, large island, and walk-in pantry
Separate dining area overlooking the backyard
Spacious living room with 10-foot ceilings and modern gas fireplace
Upper level with a large bonus room and 3 bedrooms, all with walk-in closets
King-size bed-friendly primary bedroom with ensuite retreat and walk-in closet
Laundry room with washer and dryer on the upper level
Flat rate of $450 for power, water, and heat
Basement not accessible, as it's rented out separately.
The Uplands at Riverview is an upscale and sought-after community located in the southwest part of Edmonton, Canada. Known for its luxurious homes, picturesque surroundings, and exclusive amenities, The Uplands at Riverview offers residents an elegant and sophisticated living experience. Here is a description of The Uplands at Riverview, highlighting its key features:
• Luxurious Homes: The Uplands at Riverview features a collection of luxurious and upscale homes, including single-family homes and estate properties. The neighborhood boasts modern design elements, exquisite architectural styles, and beautifully landscaped yards, creating an elegant and visually stunning ambiance.
• Picturesque Surroundings: The Uplands at Riverview is surrounded by natural beauty. The community features stunning views of the North Saskatchewan River Valley and is nestled amidst scenic green spaces, providing residents with opportunities for outdoor activities, leisurely walks, and enjoying the tranquility of nature.
• Exclusive Amenities: The Uplands at Riverview offers exclusive amenities for its residents. The Uplands Residents Association provides access to recreational facilities, including a private leisure center, tennis courts, and parks. The neighborhood also boasts private walking trails that allow residents to explore the beautiful surroundings at their leisure.
• Convenient Access: Despite its serene location, The Uplands at Riverview provides convenient access to amenities. Nearby shopping centers, such as Windermere Currents and Southgate Centre, offer a variety of high-end retail stores, dining options, and professional services. Schools, healthcare facilities, and recreational centers are also within reach, ensuring convenience for residents.
• Gated Community: The Uplands at Riverview is a gated community, providing residents with an added sense of security and exclusivity. The gated entrance and private streets create a peaceful and secluded atmosphere, perfect for those seeking privacy and luxury in their daily lives.
• Well-Planned Design: The Uplands at Riverview showcases a well-planned design that emphasizes its natural surroundings and exclusivity. The neighborhood features cul-de-sacs, wide boulevards, and meticulously designed landscapes, offering residents a tranquil and visually appealing living environment.
In summary, The Uplands at Riverview offers an upscale and exclusive living experience in the southwest part of Edmonton. With its luxurious homes, picturesque surroundings, exclusive amenities, convenient access, gated community, and well-planned design, The Uplands at Riverview provides residents with an elegant and sophisticated lifestyle. It is an ideal neighborhood for those seeking a high-end living experience in Edmonton.
Rental Information
| Bedrooms | Bathrooms | Size | Rent |
| --- | --- | --- | --- |
| Main Unit | 3 | 2550 sqft. | $2299 |
Pet Policies
Contacts
Davies Property Management - 5876051486
Davies Property Management