Clothes Storage Tips for Small Spaces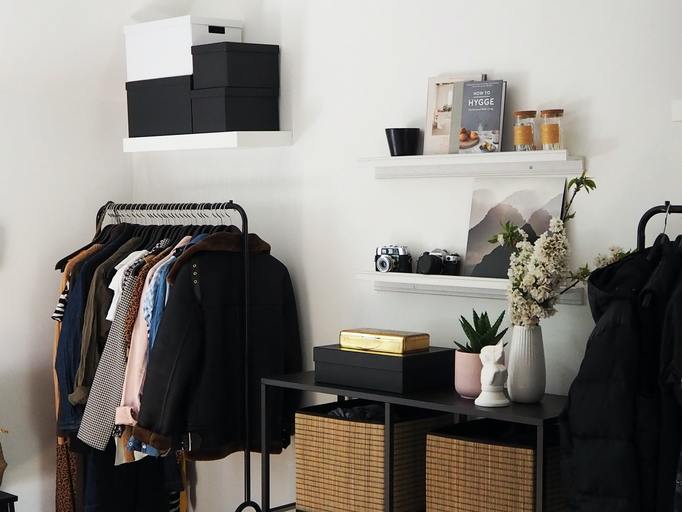 Have you ever faced a situation when all of your favourite clothes just don't fit in the closet? 
Here are some tips on how to make use of your space that doesn't involve purging your closet.
Try a Tiered Hanging Organizer
Tiered hangers are a great way to pack more clothes into your closet by making use of its vertical space. We have all been guilty of double hanging items on single hangers. Tiered hangers hold multiple items and can be used to hang pants, blankets, belts or scarves.
Use Shelf Dividers and Compartmentalize
Items such as shoe organizers, wicker baskets and metal dividing racks are great ways to organize your clothes, so that you can fit a lot more in a condensed space. Plus, they are aesthetically pleasing and make your space look more organized.
Add Storage Under Clothes
Placing a small dresser or plastic container under the clothes in your closet can serve as some additional storage space. Placing a shoe rack under your clothes is also a handy tip. This way, they are tucked in and you can fully maximize your closet space. 
Install Layered Shelving 
Adding shelves to your space is a great way to save floor room for furniture. They can be used to store sweaters, jeans, or a nice visual display for your hat and bag collection. Brackets can also be used for hats and coats. 
Vacuum Pack Unused Clothes
Puffy winter coats and chunky sweaters take up space in warmer months. Using a vacuum seal to condense clothes unworn for their off-season is a great way to save space and preserve clothing. Keep them in a drawer, in a suitcase, under your bed or in that drawer you recently put under your closet.
While working with small spaces can be tough, it's possible! With some creative thinking and organizational bins, you can easily overcome this challenge.